The Sleeping Beauty Mine is one of the most beloved mines in the Southwest. Located in Globe, Arizona, Sleeping Beauty was first mined for copper and gold. Today, it is famous for producing beautiful sky blue turquoise.
The city of Globe was founded in 1875 as a mining camp and today, mining and tourism are the driving force behind the town's economy.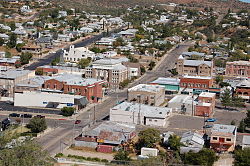 At least 20 percent of Globe's population is employed in the mining industry, which continues to thrive in the town with a population of just over 7,000. There are several copper mines in the area, including the historic Old Dominion Mine, which is no longer in operation but still works as a water supply for other mines.
When it comes to turquoise however, Sleeping Beauty Mine is the name to remember. It is one of the largest American turquoise mines still operating. The stones produced are some of the only varieties in the United States known for having little or no matrix and a bright sky blue color.
The stones are still widely used in jewelry and art and unlike stones from other mines, Sleeping Beauty Turquoise is often stable enough to be polished and used in jewelry as soon as it is mines, although some of the stones pulled from the mine are processed and stabilized.
Globe is the quintessential western frontier town and saw a slew of stage coach robberies, murders and Apache raids. Tensions between the Native Americans and miners was high for much of Globe's early years, into the 1900s.
While the city was built on the back of silver, copper and gold mining, its turquoise has become world famous and a standard for quality, beauty and durability. The Sleeping Beauty Mine continues to produce superior stones used in the finest examples of jewelry and art from the Southwestern United States and beyond.