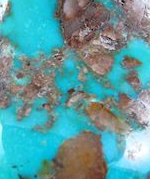 Bisbee, Arizona was named in honor of Judge DeWitt Bisbee, who was one of the financial backers of the adjacent Copper Queen Mine. Bisbee was discovered in 1880 to be a copper, gold, and silver mining town, then quickly became one of the popular towns for turquoise mining. Bisbee turquoise was originally discovered in the 1950's while workers were open pit mining for copper. The Bisbee turquoise mine is one of the few most famous turquoise mines in Arizona. Bisbee is known for the outstanding variety of copper-based minerals and the specimens that have been found in the mine. Some examples of the specimens that were collected are cuprite, aragonite, wulfenite, malachite, azurite, and galena.
Stones of the Bisbee Turquoise Mine
Bisbee turquoise developed an astonishing reputation as a hard, brilliant blue stone of really high quality. The turquoise mineral comes in many different shades of blue with reddish-brown spider-webbing, wisps or veils throughout the stone, which is referred for its unique "Smoky" matrix pattern. This unique "Smoky" pattern is only found on the turquoise gem stones that are mined from Bisbee.  The minerals that come from different turquoise mines in Arizona are often uniquely different in shape and color. For an example the turquoise that comes from the southeast part of Arizona has an unusual matrix or black pyrite that often looks like silver when polished. While turquoise mining, the mineral has also been found in many different colors with a beautiful dark green turquoise color being one of them.
The Story of Bisbee Blue
The turquoise mineral is one of the most expensive and highly collected turquoises, due to its high density, unique character, and rarity. Bisbee's turquoise minerals are some of the most desired jewelry on the market today. Since there was not much turquoise from the Bisbee turquoise mine to begin with, the unique turquoise gem stones are becoming harder and harder to find every year. The Bisbee turquoise jewelry being sold today is from collectors, and the current owners of mines.

Bisbee was one of the first towns to put American turquoise on the market under its registered name "Bisbee Blue."  The majority of Bisbee blue was revealed when the Phelps Dodge Corporation started open pit mining at the location they now call the "Lavender Pit", which was eventually closed in 1974. The Lavender Pit is now surrounded by dump material and is unpopular with the tourists. There are still mine tours in Bisbee, that take place at The Copper Queen Mine which shut down its mining operation in 1975.