Kingman, Arizona is home to the famous Kingman Turquoise Mine. The city of Kingman itself predates Arizona's statehood. When it was founded in 1882, there was little more than a railroad siding, a temporary store, a hotel and saloon.
The Mineral Park Mine is home to the Kingman Turquoise Mine and was first discovered and mined by ancient Native American civilizations long before Europeans discovered the New World. It is one of the most important Arizona turquoise mines in existence.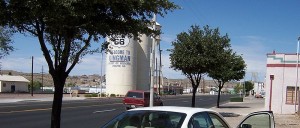 Commercial mining began at the Kingman Turquoise Mine in the 1880s and continues today. The Colbaugh family has owned and operated mining and processing facilities in Kingman since the very early days of the mining boom. Today, S.A. Colbaugh's grandson heads up operations running the Mineral Park Mine.
In fact, S.A. Colbaugh himself is credited with discovering the ancient mining site in the Cerbat Mounyains, which were known as the "Aztec Mountains" back then.
The discovery was a milestone and to this day Kingman is home to one of only three prehistoric mining sites discovered in Arizona. S.A.'s initial finding led to the discovery of Hohokam hammers dating back to 600 A.D. Navajo hammers and materials used for polishing and finishing turquoise turquoise were also discovered at the Kingman Turquoise Mine, along with water skins and charcoal.
Archeologists believed the Navajo tribes in the area used the charcoal to heat rocks that contained veins of turquoise before abruptly dousing the hot rock with water from the skin. This would cause the rocks to fracture, exposing the beautiful turquoise underneath.
Kingman Turquoise Mine stones are among the most beautiful and sought after varieties, known for its characteristic veining. Most of the turquoise stones pulled form the Kingman Turquoise Mine are used for the highest quality turquoise jewelry, but some of the stones collected are used for tile that sells for hundreds of dollars per square foot.
Kingman turquoise Mine stones are processed, sorted, graded and distributed by Marty Colbaugh's 20 or so employees. Most turquoise is porous and must be processed for use in jewelry. About three percent of the stones pulled from the Kingman Turquoise Mine are naturally hard enough to be used unprocessed. This is among the most valuable turquoise on the market.